Distribution
Our same day delivery with a fixed price pr. delivery is directed to
webshops, retailers and in general customers with larger distributions.
Webshop deliveries:
– Exceptional service for your local webshop customers.
– "Delivery on demand" / returnering / ombytning, swap / "in-house" stock
Distribution tasks:
– Promotional gifts or product samples for your clients
– Event invitations
Rates for a "same-day" delivery:
70 kr pr. delivery up to 5kg
100 kr pr. delivery up to 10kg
130 kr pr. delivery up to 20kg
Dont need a delivery "same day"? See our rates "next day" delivery here
Discounts:
5 kr pr. delivery for orders placed online
5 kr pr. delivery for more than 10 deliveries ordered at the same time
Our zones for same day delivery in Copenhagen: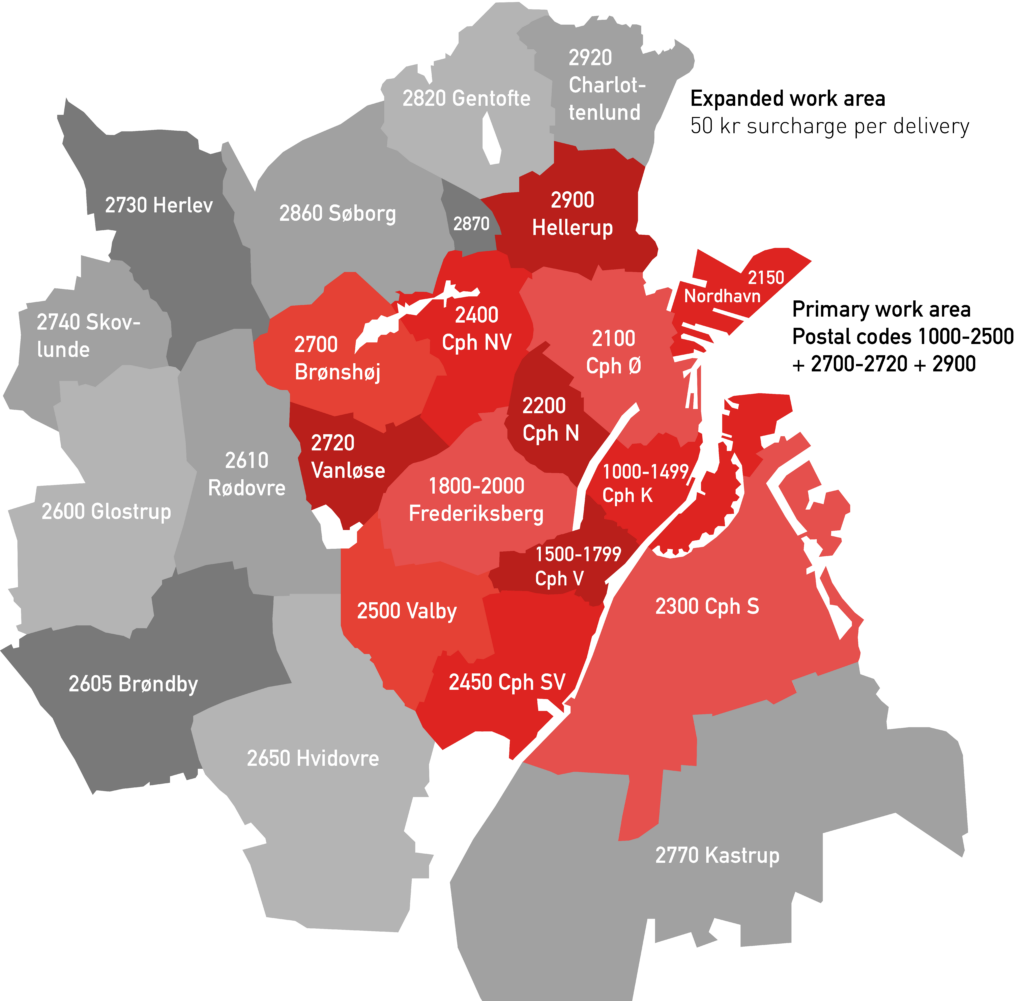 Delivery time:
–  Within 4 hours for up to 10 orders at the same time.
– For large bookings placed after 12 noon, we may deliver some of the stops before 12 noon next day.
– In case of an undeliverable parcel, we will contact the recipient directly and arrange a second delivery attempt the following working day. Returns of undeliverable consignments or second delivery attempts are charged at 30 kr.
– 50 kr surcharge for deliveries outside in the expanded work area
As part of our Webshop delivery services, we can also offer:
In-house stock, Delivery on demand, Product exchange, Try before you buy
Contact us for a customized solution or use our online-chat if you have any questions.
---